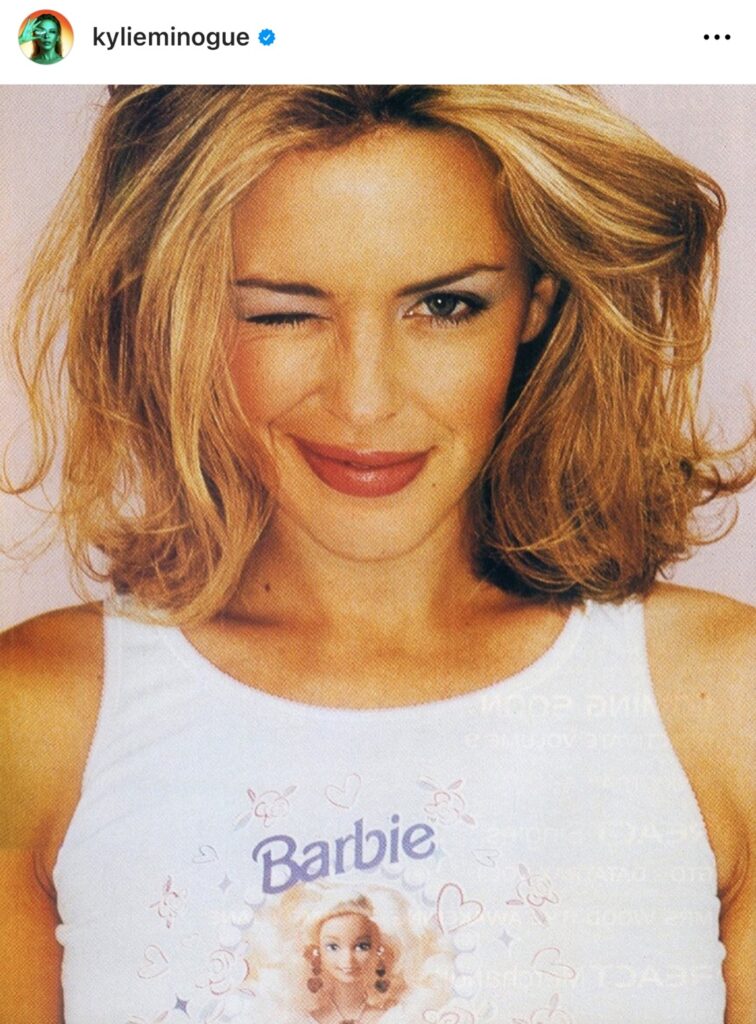 Shortly before the dawn of actual Y2K, inspired by a picture of Kylie, I trotted off down The Bethnal Green Road to buy a Barbie vest top from Woolworths. I teamed it with a pair of bootleg bumsters to wear at a night club. Too much info? Not enough I'd say.
25 years later and my phone pinged for me to discover I had been added to a 'Barbie night' WhatsApp group by a friend. She was offering to block book tickets to the cinema for a gang of us to see the Greta Gerwig film on release night. There was also a suggestion we'd dress up in our best Barbiecore. It was implied that I go as 'Barbie's Aunt'. The one who gives salacious advice. I wasn't cross.
I may lament the loss of the UK Woolworths brand in another post for those too young to understand. For now, let's focus on the fact that both Barbie and I have been around for a while.
The iconic doll brand was introduced by Mattel on March 9, 1959 (I appeared a few decades later). Created by Ruth Handler, Barbie made a big impact with her glamourous looks and aspirational lifestyle. Over the years, Barbie has had a significant cultural impact, and navigated tricky waters when it comes to contemporary beauty norms and body positivity. More recently empowering a new generation of children and adults alike, by promoting diversity.
From her early years as a teenage fashion model to becoming a doctor, astronaut, travel agent, popstar, chief sustainability officer, robotics engineer (she sure is a high achiever), and more, the Barbie brand has continuously evolved to try to reflect changing times and aspirations of young women.
But culture is messy and contradictory. For me some of the most interesting things about this Barbie's moment is despite body positivity movements, Gerwig and co cast Margot Robbie (slim, blonde, white). And, as a backdrop we are seeing the rise of 'modern corsetry' for want of a better phrase with the success of brands such as Skims and high street dupes. Then in a world where circularity should be the only business model and some consumers are making more conscious choices via Barbie, we are all going ga-ga for pink, plastic and a sparkly world of conspicuous consumption. Me included.
So, in some ways there is still work to be done.
Nevertheless, according to Vogue Business, Barbiecore has surged on TikTok, with the hashtag now having 473.9M views. Of the many brand partnerships such as Airbnb, Xbox Bumble, Zara, Nyx, I think the pink Burger King sauce it the one I would been keenest to avoid. Apparently, it is only available in Brazil. Phew.
And despite the tensions and feminist contradictions she embodies, for me Barbiecore represents a perfect anecdote to the muted tones and tastefulness of Quiet Luxury and Coast Grandmother core (yes, a real trend). When we are all focused on the cost-of-living crisis, regrettable mortgage rates and the impact of A.I on job roles – thank goodness for some hot pink fun.
Authored by: Dr. Chloe Peacock, Director – Strategic Insights at D.fferentology and resident Barbie fangirl.  If you would like to understand how trends and culture impacts your brand or business do get in touch for a chat!